I met Wirut just outside the Irish Channel a year ago when he was opening up a noodle and sushi bar next door. 
"sah-wah-dee."
"Have you been to Thailand, the 'Land of Smiles'?"
"Yes, Phuket, twice, both times by boat — when I was 5, living on a sailboat and at 17 on a frigate with the Navy."
Wirut came over to show me some pictures of the beautiful island. "I'm from Bangkok but enjoy visiting Phuket. So much to see and do there just like D.C. and the cuisine is out of this world."
"Couldn't agree with you more. And I think it's a wonderful idea to open up an Asian noodle bar here this side of Chinatown. There's lots of noodle shops here, but almost all are Chinese – so an Asian fusion noodle shop will do well next to an Irish pub. They'll come here to work off their drunk."
And I would go to Absolute Noodle and Sushi to work on their website while slurping on udon noodles with bulgogi and sipping on Asian pear sake.
Like with many restaurants, I worked for a paycheck and a tab, so this was an excellent way to invite my friends for a meal and a chance for them to meet the manager and chef.
In early February, I invited food bloggers Jackie Woodbury, Bindesh Shrestha, and Simone Griffin, whom I had worked with on a writing project eons ago. I had not seen her since she spent a year working in China, and Simone loved Asian noodles.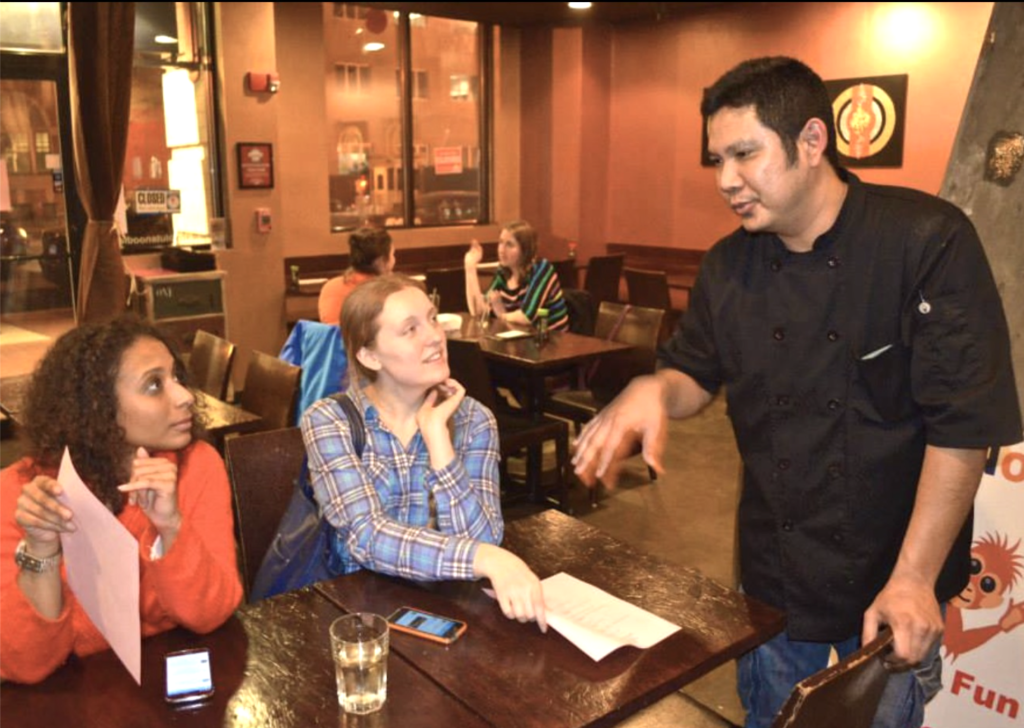 Working with Wirut also opened the door to working with their sister restaurant, Absolute Thai, down the road and owned by the couple Nay and Poupee.
Poupee showed me their outdated website. "We need to photograph all the dishes on our menu. Americans find Thai names long and confusing."
March 11, 2014
I was expecting a large turnout. I invited a lot of friends as well as marketed the event on Meetup. For $5, you got a good sample of a wide variety of dishes from the menu.
The drunken noodles were perfectly spicy, smothered in basil chili oil. The pad see ew's sauce was sweet and savory. The red curry with roasted duck was creamy with big chunks of pineapple. The curry puffs were crispy and flaky and stuffed with flavorful chunks of goodness.
Owners Nay and Poupee were happy to showcase their savory, spicy flavors to an eclectic group of desk jockeys who were delighted to get out of their cubicles and into the mix.
And I was pleased to greet every one of them.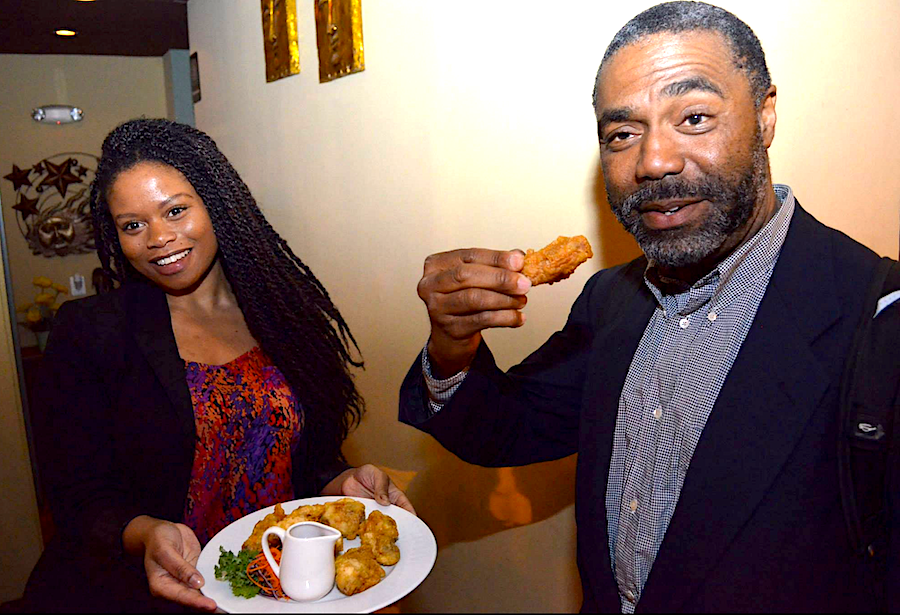 Kanita Williams enjoyed the Thai basil fried rice, and the crispy chicken wings with sweet chili sauce poured on top. "Helped a client get a DUI case dismissed today. It wasn't easy, so everybody here, please catch a train or taxi home."
"I'm walking, but if I ever get busted for a DUI, I want to be represented by you," Orlando Darden said as he picked up a piece of chicken wing."
"You know what Kanita stands for? K-eeps A-ll N-ationalities I-n T-rusting A-rms."
Quentin Edwards took a bite of his shrimp spring roll dipped in peanut sauce. "Hey, Orlando, careful; those wings may be loaded with MSG."
"That's ok, cuz tomorrow, Kanita and I are going for a long run. She's getting close to fulfilling her 10 lbs weight loss challenge. So I'll allow her to splurge on special occasions."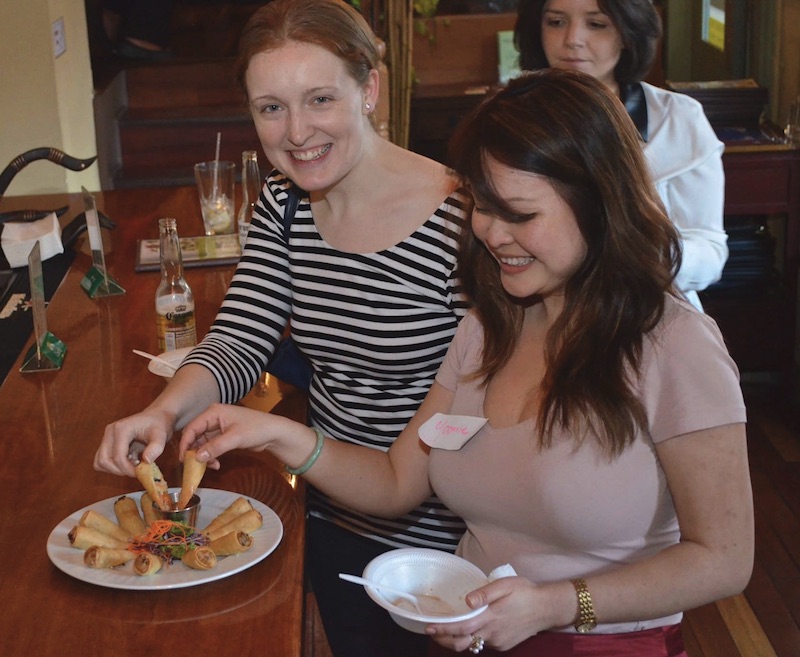 Jackie took a bite of her crispy vegetarian spring roll. "I'll say this is a special occasion — a lot larger than the noodle place down the street. We must host an event together sometime."
This event proved that Thai cuisine is loved by people from all around the world.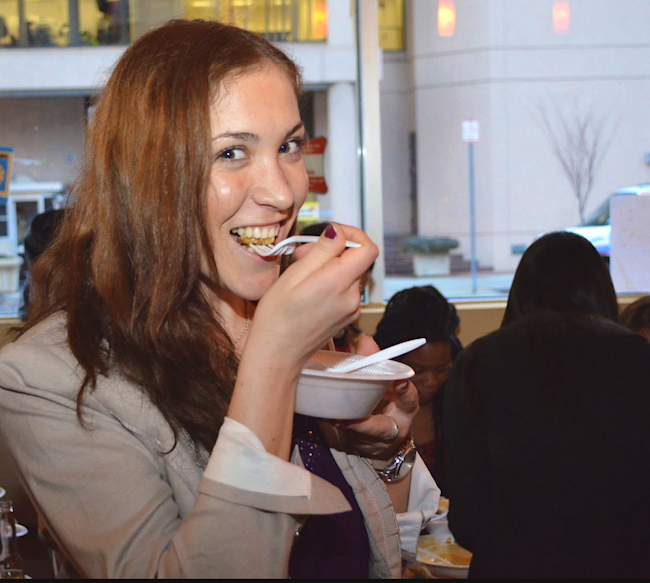 There was Natalia, a woman from Ukraine, a graduate student at GWU who worked as a bartender at the Tabard Inn, a classic boutique hotel near Dupont Circle.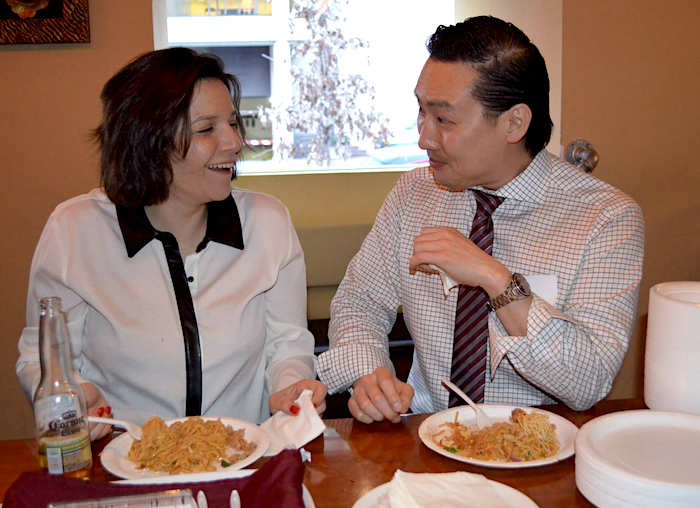 And Anne-Sophie Mebarki, a French girl who would be completing her bachelor's from Catholic University this May. "I would like to work for a startup, and I love food. Are you hiring?"
"Absolutely, we have internships available. You should meet Suzannah, who speaks French fluently.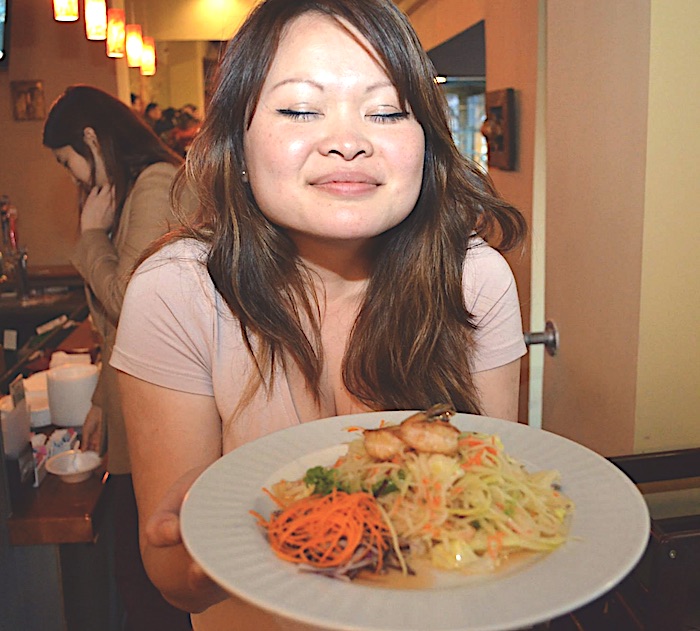 Yoomie Huynh immigrated to Sioux City, Iowa, from South Vietnam with her family in 1985 due to the economic and social aftermaths of the Vietnam War. "Have you heard of Four Sisters in Virginia? Their family serves amazing Vietnamese dishes beyond pho."
Then there was Quentin Edwards, who lived just a block from me in Anacostia. His Federal Emergency Management Agency (FEMA) office was a block from the Smithsonian Air & Space Museum. "I work only seven blocks from Chinatown, so I can come to more of your events."
"Well since you love to run, you are welcome to join our EU Embassy Run this May? It's kind of like a half marathon combined with an adventure race."
"Absolutely, I'm planning to do a Tough Mudder this fall, so this will be a good forerunner."
Photo Album