Suzannah was a godsend who turned out to be a perfect sales rep and event organizer for our fledgling startup. Originally from Charleston, she carried the charm of a refined Southern hostess and a transcending smile of an elegant beauty queen. She arranged a meetup with Biergarten Haus, a German beer garden on the newly revitalized H Street corridor known locally as the Atlas District. Suzannah reached out to Arturas "Jeepo" Vorobjovas who also co-owns the Russia House in Dupont Circle.
"Have you googled your restaurant lately?" Suzannah asked. "Your online reputation can either be an asset or a liability, and we're here to help."
"Germans love their pilsners and already flock to our beer gardens. Our reputation is flawless."
"But there are so many beer aficionados, who are not familiar with the art of drinking Bavarian beer. We're here to make the introductions."
Jeepo was easily persuaded by Suzannah's charm and got her in touch with Ali Loo, the general manager who agreed to provide free food for our event.
Now the difficult chore of attracting people fell squarely on my shoulders. I immediately visited the Meetup website and noticed the D.C./Metro Area Reddit group was hosting an Oktoberfest event and searching for a venue. I contacted them, and they agreed to co-host the event with us as long as we would share with them our favorite Subreddit group.
"Beer Drinkers!" I answered enthusiastically. "And German beers reign!"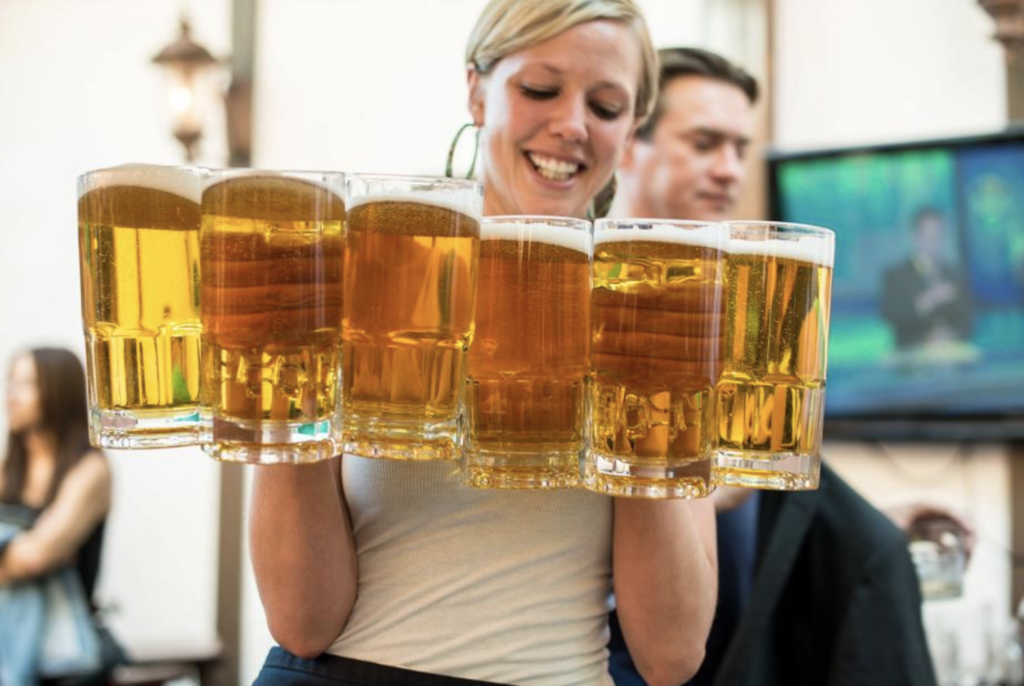 The Biergarten prosts German brews by the stein. And since the beer drinker's paradise is home to over 200 yeast strains, 40 sorts of malt, and 100 different hops, there's a different taste for every day for the rest of your life.
The Biergarten is beyond spacious. There are three bars spread throughout the entire grounds: outdoor, indoor, and on the rooftop all with phenomenal views. There was floor-to-ceiling vintage art decor that brought back fond memories of fun times at a Stuttgart beer hall. German -enthusiasts sat beside long, rustic wood tables, while many held foot-tall beer steins congregating around repurposed bourbon barrels. Outside an oompah-pah band played traditional Oktoberfest music and women in blue polka-dotted dresses danced the Schuhplattler. Ali brought out the pork knuckle served in a puddle of malty beer gravy. The lip-smacking rich meat wrapped in a golden sheath of crackling easily fell off the bone. It was the perfect dish that served a large, rambunctious group of techies in a boisterous beer hall.
Suzannah raised her stein to Ali and me. "What a lively event, kudos on our first one together."
"Danke schön," I replied. "I picked up a phrase here and there at my last duty station in Stuttgart."
"Well I know no Deutsch, but my Grandma was born and raised in France, and she made sure we spoke it fluently."
"Super, maybe you should visit Bistrot Du Coin in Kalorama for our next event. We can all mingle over Foie Gras."
"That's quite a hike. There's nothing French in the Atlas District?"
"Unless you consider Louisiana French?"
"Absolutely, Cajun is a combination of French and Southern cuisines, which is kind of like me, since I'm a Carolina girl with French descent."
"True dat. Well, there's TruOrleans, the new Cajun restaurant on the west end."
The following week, I met with James "Tru" Redding who just opened his bi-level Cajun restaurant just over the H Street Bridge. Redding is also a partner in Arlington's Sushi Rock and Dupont Circle's Public Bar and Lupe as well as Landover's Stadium Club, a steakhouse and strip gentlemen's club.
The previous tenant was a run-down radio station where Petey Greene, the legendary ex-convict turned radio talk-show host, worked and was instrumental in calming the people of D.C. in the aftermath of Martin Luther King's assassination.
Today, the building is beautifully renovated with exposed bricks and an airy New Orleans-style veranda giving it an authentic French Quarter vibe. A sign painted on the side of the building shows a retro-looking advertisement for ginger mint julep.
Tru Redding met me at the patio and gave me a spirited tour of his new digs. I admired all the wall art that Redding picked up from Bourbon Street, reflecting the character and soul of the Big Easy.
We sat upstairs on the veranda enclosed by ornate wrought iron railings with a commanding view of the Capitol. Overhead, large fans rotated above us, ushering in a cool breeze. He offered me an Abita Purple Haze, and we sat down by a stained-wood table with bottles of Tabasco sauce and "Slap Ya Mama" Cajun seasoning.
"So what made you open up a Cajun restaurant in D.C.?"
"During a local golf tournament, I met the East's, a third-generation Louisiana family who invited me to a duck hunting trip in the Creole Nature Trail. After a long day, we would return to their family home where they would cook up a storm. It was the best Cajun-Creole food I've ever tasted – not the fancy stuffy you find in the French Quarter. And after that, I was on a mission to bring back a slice of N'awlins to the Nation's Capital."
"Has everything gone as planned?"
"We made a lot of mistakes. We opened up way too early and there were disruptions in service and food. We need to reach out to folks who were not pleased with our services and give us a second try."
"Do ya'll think H Street is ready for a block of the Big Easy?"
"We certainly do. We want to be good neighbors, though, and we hope that we can bring the right balance of Mardi Gras festivities while being courteous and considerate of our neighbors. Hopefully, they will see us as good citizens, and we need your help in spreading that message."
The following month we co-hosted "The Taste of TruOrleans" with Eventstir, a crowdfunding platform for events, and over a dozen people met up at the patio to devour D.C.'s best Cajun-style cooking.i
We parked the pedicab outside and foodies piled in to devour pistolettes, andouille-studded gumbo and crawfish étouffée, jambalaya, and gator tenders, compliments of Chef Andre Miller, a Ruth's Chris Steakhouse alumnus.
Both Wayne Manigo, a local entrepreneur and comedian, and I were enjoying the Abita Purple Haze beer on tap.
"I want to go back to the people of N'awlins and thank them for the birth of their food," said Wayne
"And I want to them for their interesting cocktails and stiff drinks. The Sazeracs really pack a punch," I said. "Wanna try the Hurricane next?"
"How strong do you want it? They range from a mild level 1 to gale force 3 which is topped with Bacardi 151-proof rum," the bartender said.
I squinted back at him and made a confused face, and the bartender immediately knew which one to pour.
"So what's the next project Chef?" I asked.
"We hope to be serving breakfast soon with beignets and jambalaya-stuffed biscuits."
"Laissez les bons temps rouler."
Suzannah was the perfect adventurer in discovering and enjoying new cuisines. She was someone who could make something as benign as eating crepes look attractive. And beyond the bountiful platters of beef bourguignon and chocolate soufflé, she maintained her stunning, hourglass figure like Raquel Welch.
It definitely helped that she was an ardent fan of cardio, and she kept reminding me of the importance of cutting back on drinks and staying active.
"C'mon Chito, you've been drinking too much Abita. It's time to work it out."
If we weren't walking to restaurants, we were sprinting to them and often joining other casual joggers around the expansive (National) Mall. D.C. happens to be one of the best cities for runners due to its walkability and abundant access to parkland.
In one of our weekly rituals, we crossed paths with the Marine Corps Marathon runners at the Rock Creek and Potomac Parkway by the glamorous Kennedy Center for the Performing Arts. We enjoyed making small talk with other runners and meeting new friends along the way just like we did at neighborhood restaurants.
As we approached the scenic Hains Point peninsular, we saw hundreds of volunteers in blue, waving American flags with tribute posters commemorating the fallen. What an inspiring and emotional way to honor and remember those who made their ultimate sacrifice. I knew I would be sweating today, but no one told me that I would be weeping also.
I was honored to meet Monica Velez who lost two brothers—one in 2004 in Iraq and one in 2006 in Afghanistan. She was running her first marathon to raise money for TAPS, a non-profit organization that helps families nationwide cope with the deaths of their fallen soldiers.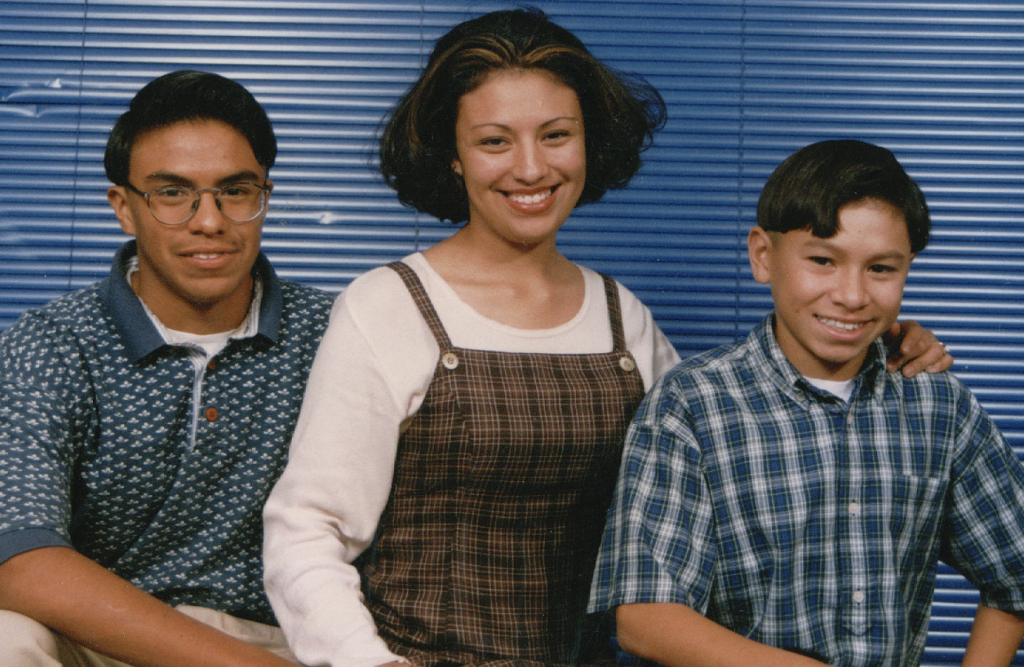 Corporal José "Freddy" Velez was killed in action in Fallujah in 2004 and was posthumously awarded the Silver Star.
"Oct 31st, 2004 was the last day we spoke to Freddie. His final words to us are, 'Be Strong, Don't Give Up.' Still holding on to those words and that moment."
Specialist Andrew Velez had the difficult task of escorting his brother's body back to the United States. Two years later, he committed suicide in Afghanistan.
"Tell me more about TAPS."
"TAPS helps brothers and sisters, fiancés, and battle buddies by providing counseling and grief support. They get us all connected so we can talk about our grief and work through it together."
"Being a sibling is a lot more than being a spouse and parent. I expected to have my brothers with me for the rest of my life. With TAPS, I'm able to share my stories and help other family members. I'm able to reach two different spectrums of grief and help them go through the coping skills to get through each day."
"Monica, your story really touches my heart. I want to thank both Freddy and Andrew who made their ultimate sacrifice You are a special angel – thank you for your service of gold. Continue on your journey."
"I remember our long runs together. I can hear my brothers cheering for me now."
I stopped to give Monica a long embrace.
As we said our goodbyes, I promised myself to return next year. If not to run, then to cheer runners along the course. I was deeply moved and inspired by their spirit and drive. And for those who gave their lives, their sacrifices will never go in vain.