On November 11, 2013, Super Typhoon Haiyan slammed into the Philippines causing massive loss of life and a trail of destruction in its wake. Battering the archipelago with wind gusts of up to 168 mph, it was the deadliest cyclone on record. I, along with my expanding network of Fil-Am friends watched in horror as the island nation struggled to bury the dead and deliver food, water, and medicine to the suffering.
So I was encouraged with hope when I got a call from my veteran friend, Kim "Dancing Queen," a self-proclaimed musical arts fanatic, foodie and lover of anything Asian, particularly Cantonese.
"Have you ever visited Medaterra in Woodley Park?"
"Afraid not. I normally stay close to downtown. I don't venture that far north on Connecticut Ave."
"Well can you please reach out to the owner, Angela? She wants to host a fundraiser for the Philippines typhoon relief, and I thought you would be the perfect choice to spearhead it."
"I'm deeply honored that you would help out. I will contact her first thing."
Angela was happy that I agreed to spearhead a fundraiser. "Post an ad on Facebook. Let them know that 50% of proceeds of food and drink will be donated to AMCROSS."
Angela and I also reached out to all the Filipino-American groups as well to a vast variety of meetups in the area, and we were delighted that over 100 people came to dine and donate money. By the end of the night, we had raised $1,200 for the American Red Cross, and Angela Aly was thrilled. "The event was enormous, and you executed like a champ."
"My heartfelt thanks to you for offering your space and amazing specials. I appreciate Kim for reaching out to me and my gratitude for everyone who showed up and provided unconditional support."
"Yes, the donations will help tremendously and we'll keep praying for the victims for basic supplies, comfort, and healing."
"Without a doubt. Say, so how's your cafe doing? Do you get a lot of foot traffic at lunch and after work?"
"Some, but the young folks prefer to hang out on U St, H St, and 14th St nowadays."
"Well, lemme see how I can help you. We're pretty skilled at leveraging social media so we can place butts in seats for those strolling casually down Connecticut Ave."
The following week, I pitched camp at the Mediterranean bistro taking pictures of dishes and featuring them on the website. In my free time, I would ride my pedicab through Woodley Park, picking up riders who didn't want to walk the half-mile uphill from the Metro to the Smithsonian Zoo. Connecticut Ave is lined with restaurants and sidewalk cafes and there was plenty of foot traffic after work and on weekends.
I also took the opportunity to visit neighboring restaurants in the rustic enclave including the Lebanese Taverna, Open City, and the Afghan Grill. Woodley Park was a small village bounded by Rock Creek Park and the zoo. But it was an international hamlet with ethnic cuisines from all corners of the world.
The Lebanese Taverna serves classic, Mediterranean cuisine in a modern, contemporary setting. In 1976, Tanios and Marie Abi-Najm boarded a cargo ship in the dead of night with their five children to escape the civil war in Lebanon. After working at local restaurants for three years, they saved enough money to purchase the Athenian Taverna in the Westover neighborhood in Arlington, VA. They made a modification in the sign to read Lebanese Taverna and the rest is history. Today, the business has bloomed to six restaurants, four cafes, and a market and deli.
The chicken shawarma was roasting on the pit with onions and cherry tomatoes embedded in between slices to give it a juicy flavor. As the inverted cone of meat turned slowly on the rotisserie, the chef deftly sliced thin shavings from the outer layer to make the crowd favorite, doner kebab.
At the bar, a stylishly chic couple started off with the bread – a football-shaped pita of hot, chewy goodness which they dipped in hummus with the right amount of tahini and olive oil.
Then as an appetizer, they ordered shawarma sliders with hot slices of lamb stuffed inside a soft pillow of bread.
The entree was braised lamb shank with white wine, the tender chunks were falling off the bone. They made room for dessert — baklava, phyllo dough stacked with honey, and pistachios to cap off a perfect meal.
I sat at the bar and ordered an Almaza, a mild and smooth Pilsner brewed and bottled in Lebanon.
[ Image: Screen Shot 2022-02-05 at 1.33.17 AM.png ]
Lebanese Taverna bar
I visited the manager, Charlie Ayoub. "What's RUNINOut, and how do I know you're some fly-by-night operation."
"Well, we have hundreds of thousands of users in the D.C. area and we were just selected 'Best of D.C.' in the Readers' poll."
"How good are you with managing events?"
"Well, we just organized a fundraiser at Medaterra across the street and raised $1,200."
"Alrighty, hot shot. Let's see if you can arrange an Arabian nights themed party for us."
I looked at Charlie wide-eyed and baffled. Did he want fire dancers, sword jugglers, snake handlers? Perhaps I could ask some of the folks from the drum circle in Meridian Hill Park to participate. We can set up henna art and have tarot card readings. Maybe I'll bring Apollo and have him fly to different customers and eat their pita bread dipped in olive oil.
"Oh certainly, Charlie, there's no event no matter how wild or exotic that I can't handle."
"Super, traditional Arab folk music with Raqs Baladi please."
I immediately called Sonia Herrero.
"Raqs Baladi—that's Egyptian belly dancing," she informed me with a chuckle.
"Well can you help out a hopeless fellow? I'll let you take Georgia out for a hike."
"Would love to, but I just started a new job at the Department of Education, so I can't commit right now." However, I would love to see Apollo."
"Cool, let's make a date to go biking, and he'll tag along."
"Nope, busy."
"Well, we got the EU Embassy Run in May, and all the Embassies love to see Apollo."
Next, I called Angela and briefed her on my meeting with Charlie.
"Don't stress out. I've got the perfect solution for you."
She wrote down a name and number on the back of the menu. "Asala, call her, see if she's available."
I dialed the number with trepidation.
"Hello, who's this?"
"Umm, this is Angela's friend from the Medeterra. Do you know anything about an Arabian Nights performance at the Lebanese Taverna?"
"Wait, are you the fella riding the pedicab up and down H St during the summer Fest?
"Yes, the one with the squawking parrot that matches the color of your veil."
"Certainly, I would be happy to dance at your event. As long as you're able to make the arrangements behind the scenes."
Raqs Baladi is an Egyptian dance that originated several hundred years ago performed by ordinary countrymen and women during gatherings and celebrations. Women moved core body parts like the spine, abdomen, pelvis, and legs helping them to develop core strength and a healthy reproductive system. People were enthralled by seeing the women move their hips, so the dance took off, spreading all across the middle-east and into India.
Jennie "Asala El Masri" discovered belly dancing in 2003 after enduring a knee injury from high school sports. Belly dancing served as an excellent therapy as she developed her core. Today she still loves sports but has found that dancing feeds her passion for movement and music. Her performances remain in high demand, and she has performed for a wide range of venues including festivals and embassies.
It was definitely my responsibility to market the event to bring a decent turnout. Asala didn't dance for free, and it was my job to bring in enough revenue to ensure her happiness. I, on the other hand, worked for a pat on the back and an open tab. The golden Almaza pilsners were refreshing and crisp and they always paired nicely with shawarmas and doner kebobs — I ate like a sultan and drank like a commodore.
And when the lights dimmed, and the majestic mejance chimed, Asala emerged from behind the red curtains, moving deftly like an eloquent diva. Her giant wings made for a truly dramatic entrance eliciting accolades from the enthralled guests. Each instrumental note hummed in unison with the elegant strides of her toned core and her undulating belly.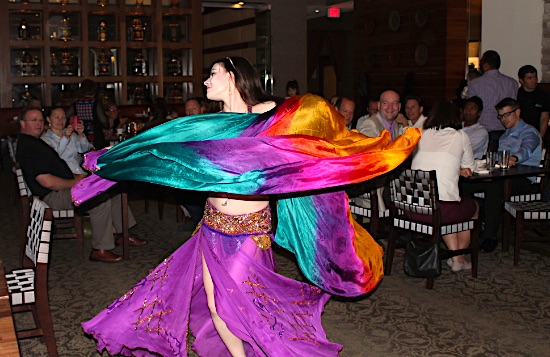 We continued every Thursday night in April, hoping the word would spread quickly and her magical allure would entire millenials in droves. Her costume was consistently glamorous and her choreography flawless. And with the succulent Lebanese cuisine and Charlie's hospitality — I felt sure we had all the right components for a huge hit.
True to form, she readily got diners to rise on their feet and celebrate this ancient art form from Mesopotamia. And Asala interacted remarkably well, displaying her elegant smile and keeping the audience entertained and captivated with a sensation of enigma and glamour.
Perhaps there was no other night where her prowess was on display than on April 13. If no courageous soul rose to the floor, Asala would pick an innocent victim. From the corner of her eye, she saw a nice gentleman smiling and seemingly enjoying himself. So she went over to tie her veil around his head, only to notice that he was wearing a priest uniform. Charlie gasped. Asala glanced over and caught his expression and dreaded catching his wrath after the show. Surprisingly, everyone else seemed to get a kick out the entrapment and many thought that she had planned it out from the beginning.
All the online reviews for the food, service and performance were glowing, but sadly, the attendance continued to be sparse. Very few mainstream Washingtonians were fans of this exotic art or were willing to drive up to sleepy hollow to participate. Instead, they congregated at the more popular hub: H Street, 14th Street, Adams Morgan, and Dupont Circle at the hip hop lounges swaying to the familiar beat of go-go, funk and R&B.
My immediate reaction was to call Jackie Woodbury for another lifeline. Maybe Wayne Manigo could infuse the show with light-hearted laughter. We even discussed having Asala dance to classic rock — an idea that was immediately shot down by Charlie. But if we didn't draw a large enough crowd, he would be scrap the rest of the shows.