May 12, 2015
The views at the Georgetown waterfront were busy with paddle boarders launching from the Key Bridge Boathouse and lunchers enjoying the open patio seating at Sequoia and Tony & Joe's Seafood Place. Bikers were crisscrossing the Capital Crescent trail on their way to Bethesda or Cabin John. Runners and strollers were enjoying the historic C&O Canal stopping at the numerous bakeries and coffee shops to grab a bite or to enjoy the rich, sweet aroma.
While kids were splish-splashing in the fountain and grown-ups were getting their feet wet, Sunita Amatya was sitting on the side of the river, praying for the thousands of lives lost thousands of miles away.
On April 25, 2015, a 7.6 magnitude earthquake struck the city of Kathmandu in central Nepal killing 9,000 people, affecting millions of lives, and causing $10 billion in damage.
"May the tragic and devastating situation get better with Divine grace. May all five elements of the creation (earth, water, fire, space, and air) be balanced forever and will there be no more natural disasters," she chanted towards her Supreme Deity.
The common belief is that to experience enlightenment one must be quiet and sit motionlessly. But that couldn't be further from the truth. Then as her prayers to Dharma were received, her devotion transformed to dance as hundreds of sightseers and gawkers were entranced by her majestic movements. But this was not a performance. Sunita was touching her dimension beyond her limited mind and body. It was an inner engineering language to express life energy while using the body as an instrument.
Suddenly out of the corner of her eye, she saw a spirited straggle of runners. Not just any runners that you would see spurting all over the pristine paths of D.C. But these exuberant runners were adorned in bright red Embassy Run shirts, matching their crimson red Nepali flags they were waving. The color symbolizes the brave spirits of the Nepalese people and the two triangular pennants represent the Himalaya Mountains and the two major religions: Hinduism and Buddhism.
The astounding sight was too coincidental to be a coincidence. She quickly rose and with the enlightened spirit of Buddha followed the throng to a neighborhood saloon on Water Street called Mr. Smith's.
For a second, she wondered whether she belonged here. The pub was unassuming and low-key, and there she saw what seemed like a hundred road-weary warriors all dressed in crimson red, nursing a cold Dos Equis.
"Saw you guys running by the waterfront. Are you running for Nepal?" she asked gingerly.
"Absolutely, we've been running 13 miles and raising awareness for survivors of the earthquake," I answered. "Are you from Nepal?"
"Why yes, I was just at the park praying and dancing for the plight of our people. And Prince Shiva led me down this path to join your gathering."
"That's quite poignant. We were devastated when we heard about the earthquake, and we wanted to use our run as a vehicle to raise awareness and funds."
"Then Prince Siddhartha answered my prayers. My son, Sudin, and I are also raising money for recovery and relief, but our efforts to date have fallen short."
"I think there are ways that we can collaborate. But first, tell me why dancing is so transformative."
"Dancing helps us purify our thoughts and heart and heals us from physical and mental pain. It's to let God in and to let go of any negativity — to attain bliss."
"Wonderful, Audrey Pichmimi said. "Can you show us outside how you perform your dance?"
[ Image: Sunita-dancing-in-Georgetown-1024×689.png ]
Sunita showed us how to dance for enlightenment on the Georgetown Waterfront
The following Thursday evening, a couple of dozen revelers, runners, and members of the Newah Organization of America (NOA) amassed at Courthaus Social in Arlington to honor the people of Nepal, discuss earthquake relief opportunities, and enjoy music and dance.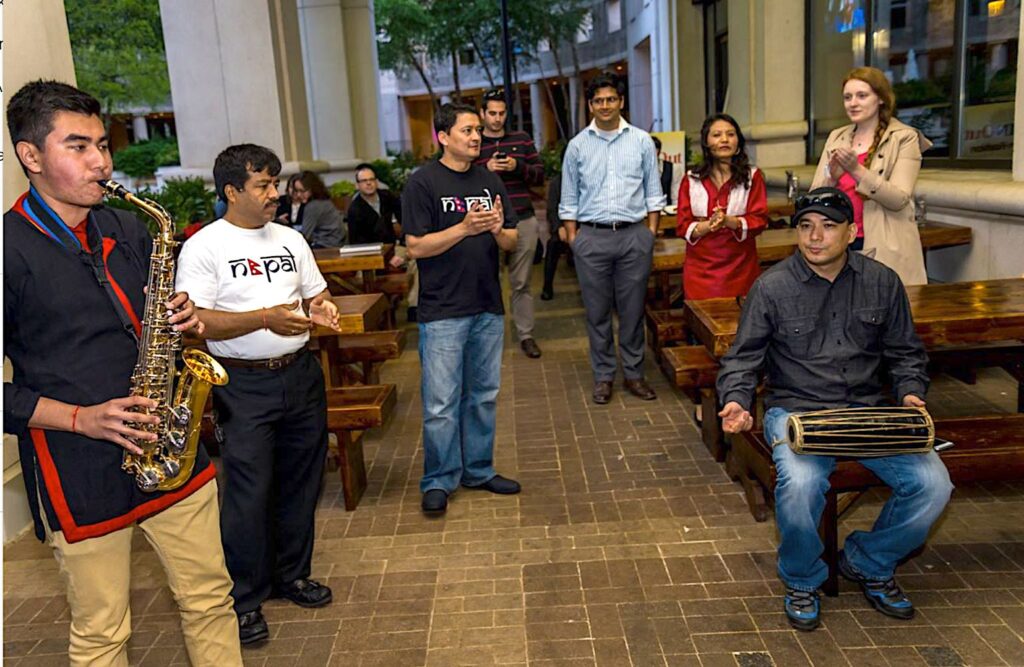 Sunita brought her talented son 16-year-old, Sudin who played the sax and sang traditional folk music. The music carried powerfully through the outdoor patio on a warm spring night, and many onlookers inquired about the cause — NOA was able to also receive generous donations from those who were deeply touched and wanted to show their support.
We charged $20 for entry which included a wide selection of appetizers. Jackie was instrumental again, spreading the word and getting people to book the event through her site, Bookalokal
Audrey, who was enamored with Sunita's faith, returned to help raise money and to enjoy Nepali music.
By the end of the night, we were able to present NOA with a check for $1,000
Members of NOA receiving a donation from the Nepal Relief Fundraiser
"We are extremely grateful for your spirit of generosity," said Ram Shrestha, president of NOA. "We will be able to provide medical supplies and build temporary shelters with these funds."
"Thank you very much," Sunita said. "This divine circumstance proves that praying and dancing is indeed transformative."
"It's our great pleasure, to serve a small part in this. I'm now a true believer in the power of spiritual dancing. My thoughts and prayers to the courageous people of Nepal."