I was going for a run around Chinatown and Mount Vernon Square when I sensed the unmistakable gamey smell of roast pig. I followed the scent and arrived at an outdoor patio with a bocce parklet on I Street. A small crowd was enjoying happy hour while a suckling pig turned a crisp brown on a spit roast.
I've never played bocce, but I knew it started in Italy, and it's really taking off in the US. What struck me was seeing a famous chef joining in on the fun. How could I not recognize him – the renowned chef from Al Dente with his signature spectacles, white coat, long apron, and familiar smile.
"Chef Donna?"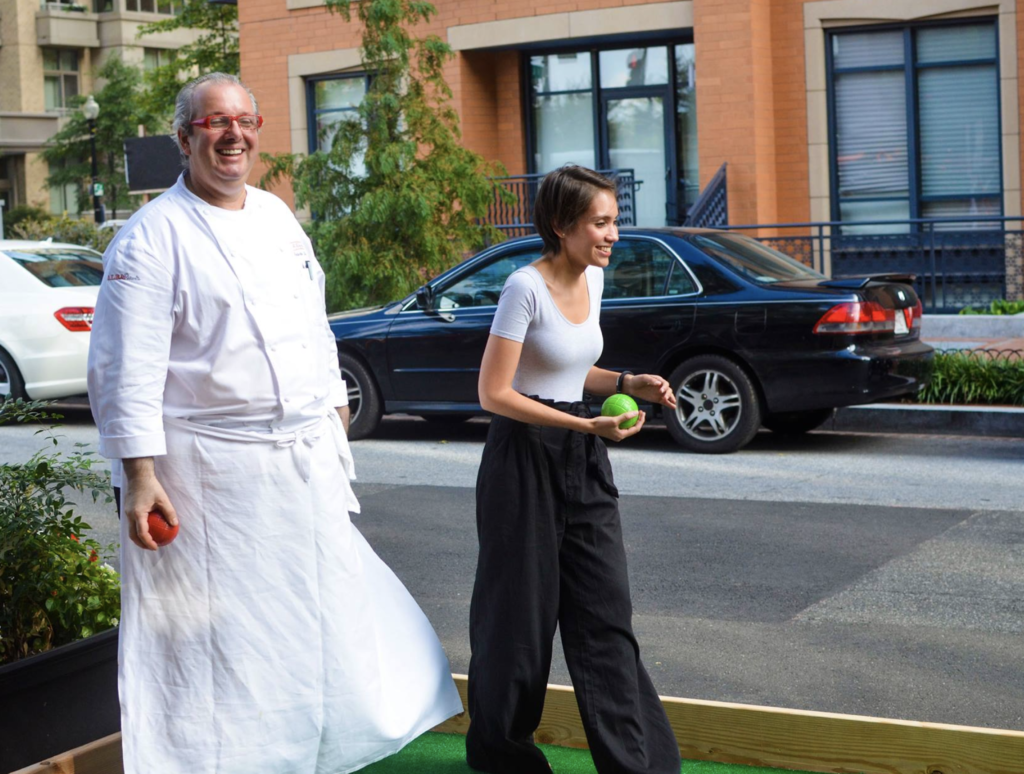 "Si, unico e solo"
"From Galileo and Al Dente?"
"Among many others, yes."
"Nice to finally meet you. I've heard wonderful things about you. So you've moved to up-and-coming Mount Vernon Square."
"I'm excited about this locale. Hotels and condos are going up and people are taking a chance. We want to be their neighborhood restaurant."
"Who did you bring along?"
"Well, Amy Brandwein, my Chef de cuisine, who worked with me from Galileo, and Angie Duran my manager from Al Dente."
Please join us, grab a piece of pork and crackle and check out our enormous space," said Angie, as she opened the door and welcomed me in.
"The name Alba refers to a town in Roberto's native Piedmont. With 226 seats, we are Chef Donna's largest restaurant thus far. To make the atmosphere feel more intimate, we have sectioned spaces throughout, like a pizza bar, a dining room enclosed in a wine cage, a 12-personal communal table for chef dinners, and of course a 62-seat bar area with local beers and four wines on tap plus more than 200 Italian bottles."
"Totally rad, this bar space would be perfect to host an event."
"Well, I'm also the event manager so just let me know when and the size of the group."
"We normally draw a large crowd and the majority of us are foodies, so providing complementary apps and side dishes is part of our MO."
"I can definitely ask my boss Hakan (Ilhan) if we can provide some panini and pizza. Our oak-fired pizza oven turns out pies super fast. But we'll want to make sure that our bartenders will stay busy."
"Of course, we're a very social group, some even brokering deals. So every one of us will have a drink in the hand, and for people like me, they'll have two."
"Perfect our happy hour is from 4-7 pm when draft beers are $4 and select wines by the glass are $5."
"Quite impressive. Is all this information plus your food and drink menu updated on your website?"
"We try our best. But we have a lot on our plates at the moment."
"Well if we shoot pictures of the event as well as your dishes, we'll share them with you so you can post on your site and social media."
On Sept 30, 2014, the turnout for our event was phenomenal with nearly 100 people in attendance.
Chris Cooks is an IT consultant, social media enthusiast, networker, and self-professed comic genius. I met him at a PR Flacks happy hour, a meetup for PR professionals and communicators, and he has attended a few of our events over the years.
Chris and I bellied up to the bar sipping on our Belgian-style pale ales. "Hey Chris, are you all caught up on watching 'Game of Thrones'?"
"Finally, can't wait till next week and see which characters survive the series."
"Well, I haven't had the pleasure of seeing any shows in a long time, so please don't spoil it for me."
"I envy you, cuz you still have a lot ahead to look forward to."
Angie Duran was busy running back and forth to the kitchen picking up appetizers and keeping guests happy.
"So Alba Osteria prides itself on authentic Northern Italian cuisine from the Piedmont region, the home of Chef Donna. The region abounds in land for grazing animals and for wine production."
But braised meats, veal, and beef dishes from Piemonte cattle were not the only staples served.
For the first time in her life, Judy Castiglia ate escargot "Mmm, I love the taste and texture. And it goes well with the parmesan risotto."
Next Judy tried to grab a baked octopus in creamy polenta from Angie, but they went fast.
"I'm embarrassed as an Italian to say I have never tried polenta. Argh!"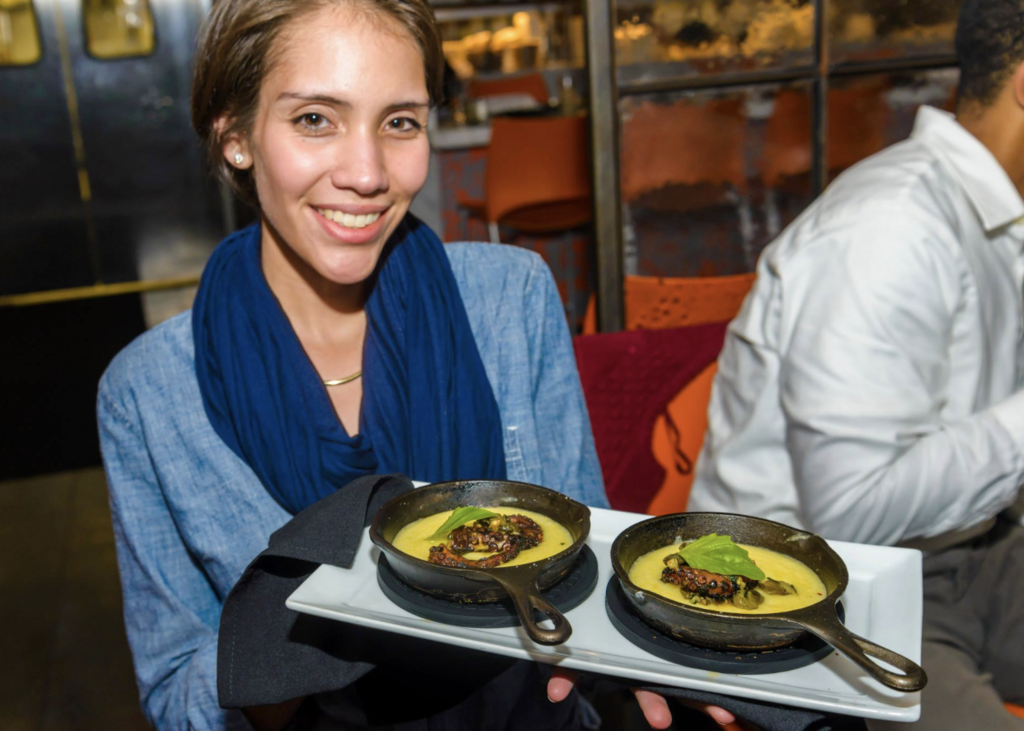 Wayne Manigo scarfed down a capunet (cabbage-wrapped braised duck). "Yeah, there's only two HBO shows I like better than GOT – that's 'VEEP' cuz it satirizes the political world, and 'The Wire,' cuz it got it all right about Baltimore."
"Baltimore is a city that I haven't spent much time visiting. But maybe she's the next terrain."
Christine Bach grabbed a slice of veal carpaccio with citrus oil. "It's a beautiful place — The Inner Harbor is one of my favorite. There's a lot of wonderful Italian eateries there."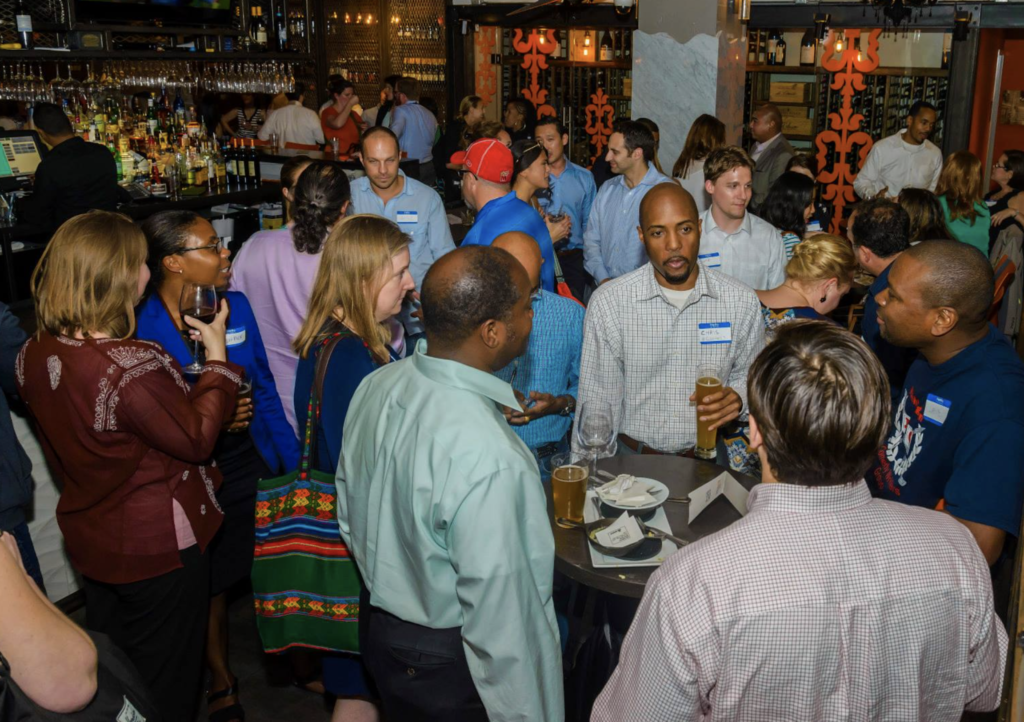 Prior to becoming a chef, Amy Brandwein was doing political research for a lobbying firm in DC. Growing up in Arlington, VA, her dad was a good home cook and vegetable gardener who was always inspiring her. So when she came to the fork in the road of her career, Amy decided that rather than go further into politics, she would pursue the field that she had a passion for. She attended L'Academie de Cuisine and then applied for an externship at Roberto Donna's Galileo. In 2000, she started in the pastry department, eventually becoming a saucier, then moved up to be a sous-chef. Then in 2005, she was named Donna's first chef de cuisine.1
"Amy has a passion for Italian food who goes to the bottom to really find the heart of it," said Roberto. "She's very driven and likes to make her point in the kitchen."
Wayne picked up a piece of house-made salami from the imported Charcuterie board "So Chef Amy, how is it like working for a James Beard Award-winning chef?"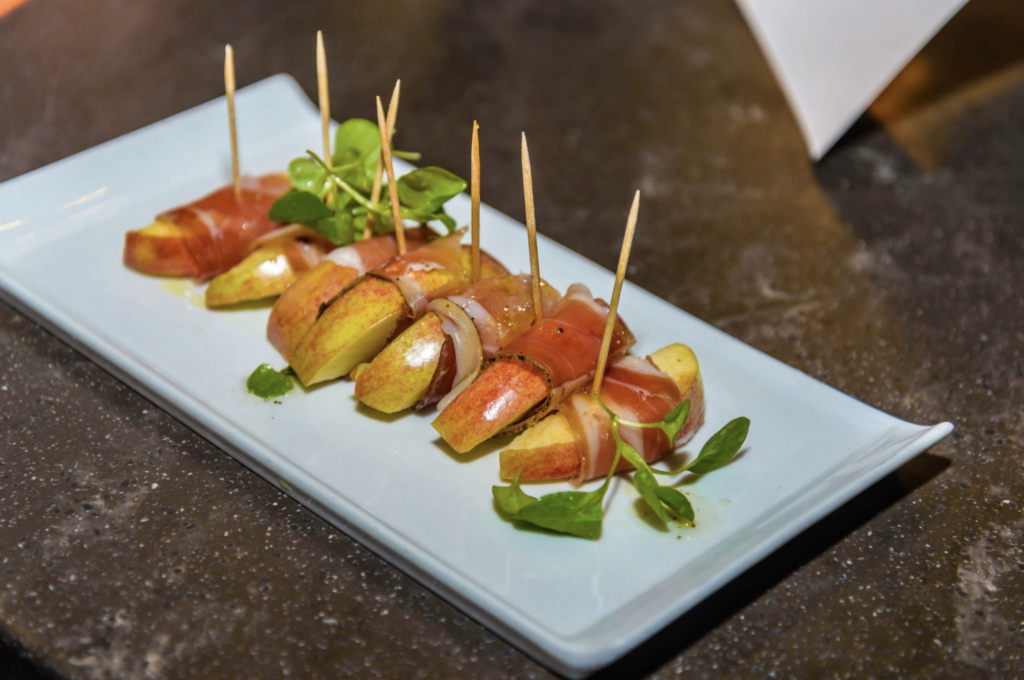 "Roberto is an amazing chef who is intense and highly demanding. He taught me to be true to myself and to my cooking. I definitely learned a lot from him."
Judy raised a glass of Barolo wine. "So Amy, you're really shaking things up. Wish there were more innovative female chefs like you."
"Some people call me Roberto's sidekick. I don't think so. I'm his chef, not his chic. I run his kitchen, and that's a huge responsibility."
"We'll drink to that!" Chris raised his pint of pale ale.
Jason "Foodgeek" was enjoying a chestnut trifle pasta dish. "The food is fresh. Who sources your produce?"
"We buy from local farmers' market or cooperatives, specifically what's in season — we have a passion for responsible and locally sourced ingredients."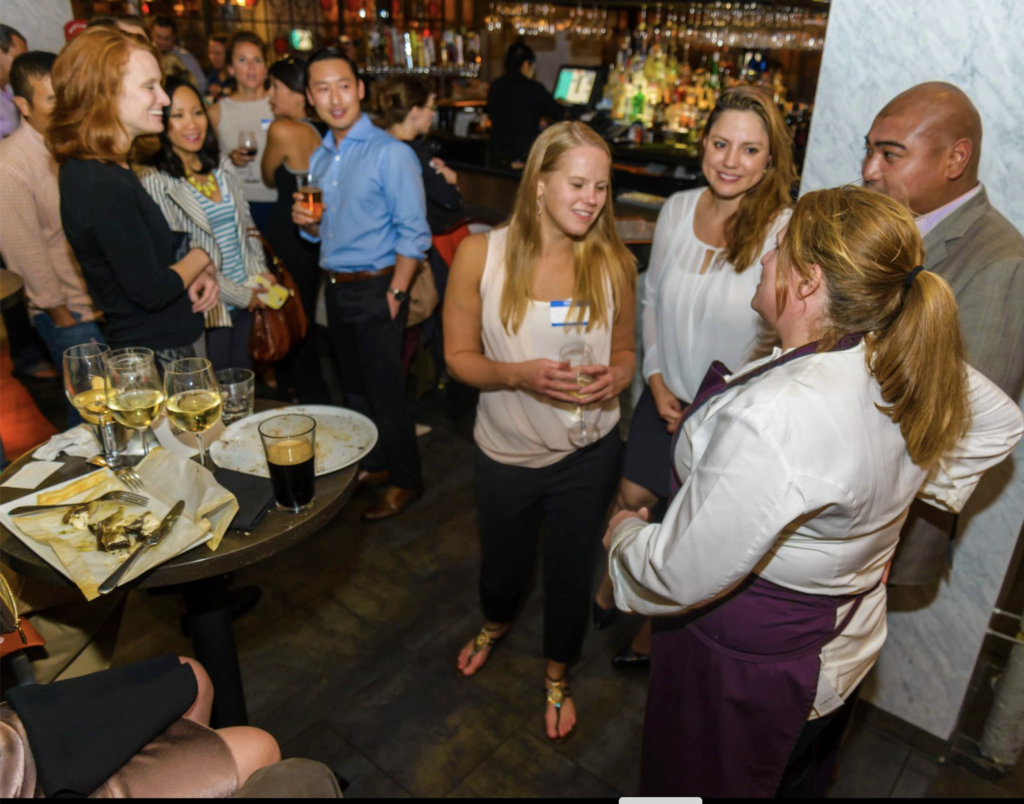 "This is wonderful Amy. Thanks to you and Angie for making this an incredible experience," Jason said.
"Yes, I definitely feel like we're in a family-run restaurant in Alba, nestled away in the hills of Piedmont, enjoying traditional cuisine," Judy said as she dug into the braised beef and beef jus, sprinkled with bone marrow.
"Well come back and join us on Thursday nights for Chef's Table. It's a six-course tasting menu where I want to go beyond cooking and create an experience with flavor profiles and wines to enhance the cuisine. The menu will draw from all parts of Italy and incorporate a lot of fresh, sustainable ingredients in both the cooking and cocktails.