I checked into the HI Vancouver Hostel and started searching for a Drupal developer who would be willing to take on my project at a reasonable cost.
Then she walked in. I tried hard to keep my eyes on my screen and not at the soft, velvet flesh of her long, graceful legs. As she crossed the lobby of the hostel, she paused briefly and turned slightly. That's when she caught me looking.
She had sandy blonde hair, that fell to the middle of her back. Her eyes were green like emeralds that sparkled under the moonlight in the windswept Georgia Strait that separated Vancouver Island from British Columbia.
I forced myself to focus on my work, but I just couldn't keep my eyes off her luscious curves. And I sat frozen as she gently approached, quickly trying to formulate a one-liner.
"Love your feet," she said softly.
I didn't bother to look down. I knew what my feet looked like. They were dry, calloused, and much neglected.
Hers were sleek and graceful and appeared to sparkle under her soft, Bohemian dress.
"Your feet, the ones on your computer," she explained.
"Oh, those." I blushed lightly, my eyes smiled back. As she drew nearer, I could see her taut, smooth skin stretched tightly over her sculptured rouge cheeks.
"Oh, they're my Five Fingers," as I explained that I am a huge fan of the Vibrams Five Fingers running shoes and being an avid brand promoter, I had stuck a pair of their running shoe decals on the top of my laptop.
"Oh, are you a runner?" She already knew the answer to this question.
"Yup, Luv it more than anything."
"I'm not much of a runner, but I do like biking."
"Me too, in fact, I bought my bike to Vancouver from Washington, DC."
"Well then, perhaps we can go biking sometime. I'm pretty familiar with all the bike trails in the area. Lived here nearly my entire life"
"And I'm brand new to this city, so would love a personalized tour."
"Well, I'm not available tonight, but perhaps tomorrow night. My name is Naomi, but friends call me Pony. Here's my contact, in case you're available."
Wow, I knew Canadian women loved the outdoors, but are they always this aggressive?
The next day, we met at the hostel and rode our bikes toward Stanley Park. We were first met by a statue of Lord Stanley, the former Governor-General of Canada, standing with open arms and decorated with a Vancouver Canucks sweater. Then we proceeded towards the rainforest trails and marveled at the 100-year-old trees. At the north side, we stopped to admire the Girl in a Wetsuit statue decked with a Canucks jersey.
Next, we cycled the seawall trail around the Lost Lagoon offering pristine views of the mountains juxtaposed with the downtown skyline.
Turtles were basking in the sun, Blue Herons standing motionless in the water, waiting for a fish or frog to emerge.
The trail was rather flat and we rested at Second Beach where we dipped our feet in the water while Naomi shared her passion for yachting and how Vancouver serves as a remarkable outdoor playground.
"There's a reason why they call Vancouver the Most Livable City," I said.
"But lately, our reputation has been tarnished by the riots."
"I heard that the city was stunned when the Canucks lost to the Boston Bruins in game 7 of the Stanley Cup."
"The Canucks had never won a Stanley Cup, they had already claimed it as theirs for the taking," she said.
"Yes, they had the league's best record, scored more goals than any other team, and allowed the fewest,"
"No Canadian team has won the Stanley Cup in 18 years. We felt robbed since the US dominates in the mighty triad of football, basketball, and baseball, and Canadians love their ice hockey," she said.
Fans set fire to vehicles, smashed windows, and looted stores – it was a big black eye to Vancouver's moniker as the 'Most Livable City.'
"I joined the clean-up and food vibe movement. Real Canuck fans are not hooligans."
The next day, Naomi and I visited Gastown, the site of the previous riots in 1971. We attended the Fête de la Musique event filled with local musicians from baroque to rock.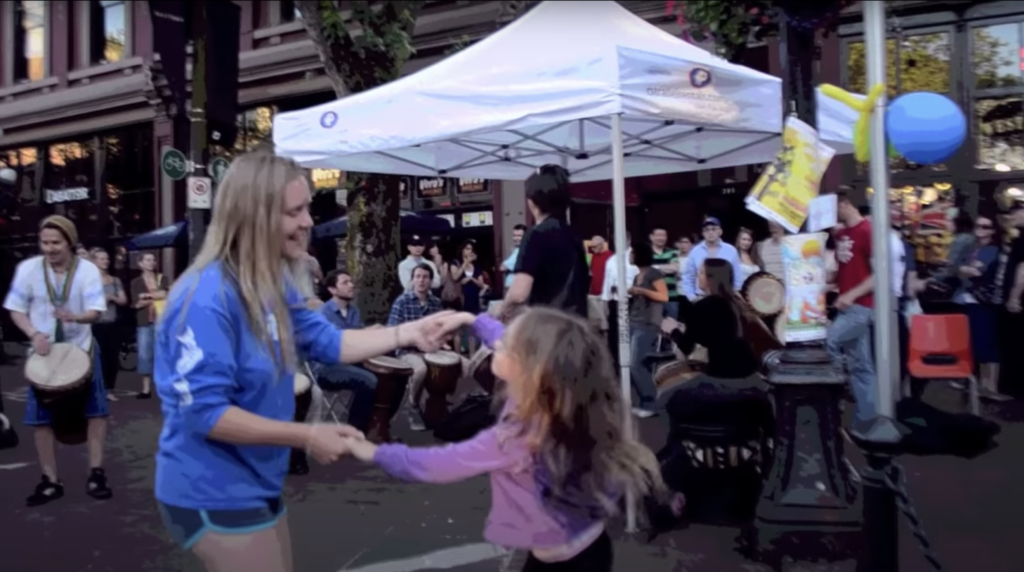 We then visited the Cambie Pub, an unpretentious bar that's been open since 1897. The place reeked of grunginess, but the vibe was amazing. The pub was a walk in time and there were many interesting characters there. Backpackers and tourists who were staying at the hostel upstairs walking through. No fancy cocktails here. Just shots, vodka sodas, gin and tonics and cheap pitchers of beer.
The Pub was only a stone's throw away from Blood Alley and Water Street passing trendy furniture and clothing shops next to chronic meth and crackheads hanging out by the street art.
We stopped in front of the Steam Clock which was really half powered by electricity.  It was a great visit with a lot of sights, sounds and ambience.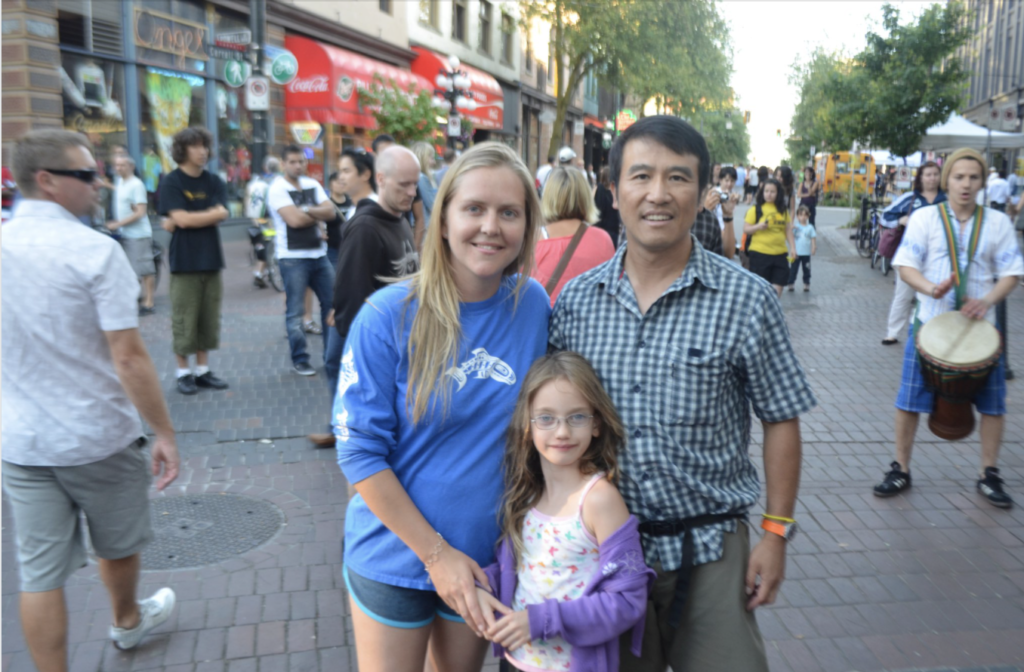 "You need to add Vancouver to your website," Naomi stated.
"If I can find someone to build it, I certainly will," I responded.
"Super, please keep me posted. I'll walk you back to the hostel."
The following day, I set up a meeting with Gregg Coppen of North Studio at their downtown office.
"I want customers in Vancouver to be able to tell us their favorite dishes so that when they travel to San Diego or Washington, DC, we can make customized recommendations."
"Food is a very appealing content. A content management system like Drupal should help you best store, organize and display it," said Gregg.
"How do we categorize each dish?"
"By using the taxonomy module. You can define your vocabulary such as 'pasta' and then add terms to each vocabulary such as 'fettuccine, spaghetti, penne, lasagna'."
"Can we break it down even further?"
"Sure, for spaghetti we can create new terms 'angel hair, bucatini, fusilli, etc. You can go as deep as you want."
"And we can do the same for restaurants and stores?"
"Sure 'fine dining, fast-casual, family-style, cafe, buffet, contemporary casual, bistro, etc.'"
"And then break it down even further by cuisine, whether it's romantic, is good for sports lovers, have a view, etc."
"Yes, and under sports pub, we can describe their favorite teams. You wouldn't find a Canucks fan at Boston Bruins bar, or vice versa."
"How would customers be able to search and find the right content?"
"By incorporating Apache Solr for the faceted search. Like when you're shopping for a type of shoe on Zappos, you can narrow down by brand, size, color, the whole nine yards."
"Wow, this is a complex project, and I can't wait to get started. I knew that coming to Vancouver was a great idea. But as a fledgling startup, I'm on a shoestring budget. What is the best price you can offer me?"
"Lemme discuss with the office and get back to you soon."
The rest of the team from North Studio loved my idea but responded that the total cost would surpass $30,000.
"That's too much. I'm a struggling MBA student. Can we do it for 15K?"
When I was riding the Greyhound bus back to DC, I got a call from North Studio that they had accepted my offer. They were impressed by my passion and wanted to build something of value that could be used coast-to-coast. To offset the costs, we would work together in building the site, and I would be solely responsible for adding the content. I definitely couldn't find these rates in DC or any major metropolitan city.
That's why I had to travel 4,000 miles and back to find a well-rounded team who understood the intricacies of food, how to categorize it, and display this information on a mesmerizing, visually appealing site.