D.C. is the epicenter of politics, so at virtually all events, somewhere, somehow, politics was mentioned or debated.
So when I got a call from Jim McBride, president and founder of the grassroots organization, Network for Progress, I knew exactly what was in the cards.
"I like the vibe of your events, the marketing, the aura."
"I think our groups complement each other well," I replied.
Jim was a hope monger and change-maker who was part of the Generation Obama in D.C. He has been working in communications and politics for over two decades and has done media and communications work for tech companies in NYC and non-profits in D.C.
"A Super PAC is in town and wants to host a happy hour in D.C. Someplace centrally located, good food with a breezy deck."
"You got it. In this town, there are more PACs than watering holes."
"This particular one is quite important. They're trying to get Joe Biden to run for POTUS."
"Hillary has a huge lead, but he'd be a credible candidate for sure."
"We'd like to get him to run in case Hillary's email server controversy ruins her chances. He'll definitely contribute to a healthier debate."
"Don't think he's interested, especially after losing his son to cancer."
"Yeah, so we want to host a fundraiser also for the Fisher House Foundation in honor of Beau Biden."
Beau Biden was a captain in the National Guard and deployed to Iraq in 2008. Their family strongly believed in serving military families so donating to the Fisher House in honor of Biden would be the right tribute to make.
June 4, 2015
Will Pierce, a tall 26-year-old with a beaming smile, is also a veteran of the wars in Afghanistan and Iraq, has worked for Hillary Clinton's campaign in 2008 and volunteered for Obama's that same year.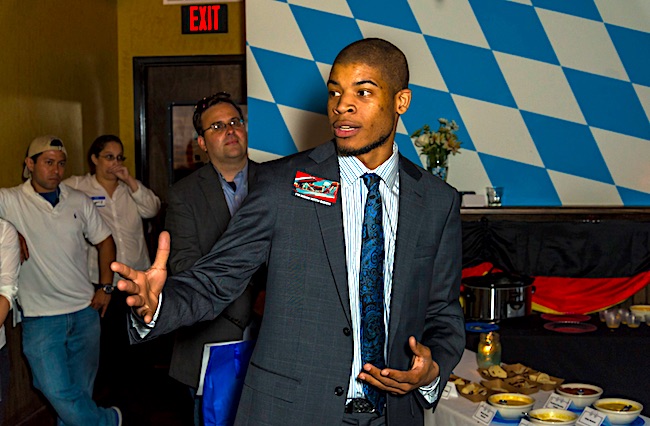 "We don't want to see another Bush or Clinton in the White House," said Will. "We're trying to show Biden that the majority of Americans would welcome seeing him run."
"Well the turnout has been amazing, and the outpouring of support following Beau's death could show the Veep how beloved he is and convince him to jump in the race."
"Yes, it's quite hard to get into the V.P.'s head right now," Will said. "When Biden lost his wife and one-year-old daughter in a car accident in 72, a lot of people thought he would step back and resign. But he turned around and used that tragedy as a source of strength."
Despite the ongoing funeral service, the mood was far from somber. Many of my friends such as Mike Araman, Kobe Owens, Sue Schwartzberg and Leonard Tyson attended.
"I would support either Biden or Clinton in the White House," said Mike. "Whoever wins the GOP nomination won't stand a chance against any of them."
"There are too many seats in the Supreme Court that is up for nomination next term. We definitely need a Democrat in the White House," said Leonard.
By the end of the night. A sizable amount of money was raised to provide free or low-cost lodging to veterans and families receiving medical treatment. Supporters gathered to honor the Biden family's contribution to the nation and support a great cause in memory of a great man, and everyone seemed to have a good time mingling and catching up with old friends.
A couple of months later, another call from Jim.
"August 6 is the first Republican Primary Debate," Jim announced. "It'll be a GOP Clown show for sure."
"Yes, it's hard to believe that Donald Trump is leading in the polls and lapping Cruz by double digits."
"Can we host a rooftop event where we're offered a panoramic view of the Capitol?"
Armin Armin of Chaplin's recommended I visit Cambria hotel down the road. "It's where I stay when I've knocked back a drink or two, and I've gotta get up early in the morning. They have an indoor rooftop pool and a nice lounge with a stellar view of the city."
"Great suggestion, the Cambria near the D.C. Convention Center is the perfect location," Jim responded.
"I'll talk to Evan Walton, the Director of Food and Beverage to see if he can offer specials on select apps and bar drinks."
"We also would like to televise Jon Stewart's last 'Daily Show' after the Debate. He's bidding farewell that night."
"He's a legendary pundit and B.S. caller. We'll definitely miss him."
"Yup after watching ten candidates for four hours play musical chairs, we'll be bored to tears."
"Well, music always goes well with politics, and allegiances are expressed well in song. Lemme tap into my Rolodex and contact a few musicians who can add joviality to the evening."
I remembered watching Flo Anito perform at the H Street Festival and enjoyed listening to her Jazz Pop on keys and guitar. Her raspy voice was addictive, and she has a large vocal range (3.5 octaves) reminding me of the highly expressive voice of Fiona Apple.
Classically trained in voice, piano, and 'cello, Flo began her singer/songwriter career at age 16 when she got her hands on her first guitar. She graduated from Wesleyan University in Connecticut with a B.A. in Music, and has lived and performed in the D.C. area ever since.
Flo has graced some of DC's biggest stages: Strathmore, Wolf Trap, Merriweather Post Pavilion, the Birchmere, Blues Alley, the Fillmore, Hamilton Live, and Bethesda Blues & Jazz as well as dozens of annual festivals in the DMV.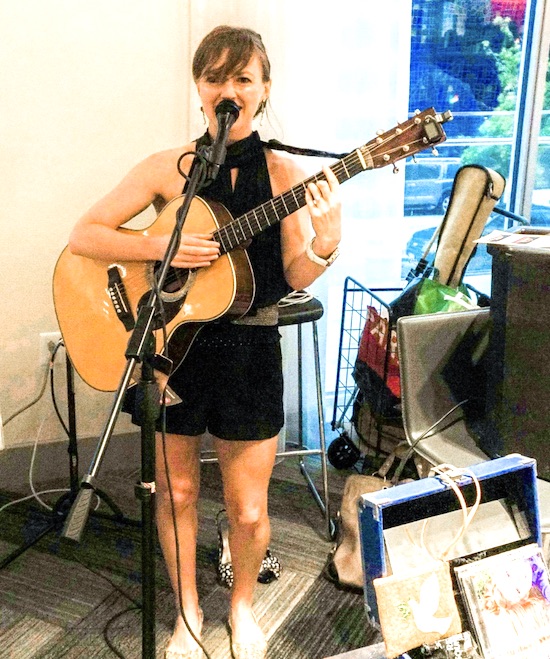 A week before the event, we were pleased to see that over 100 had RSVP'd and the numbers just kept rising.
Jim exuded a big smile. "We've never gotten this kind of response for any of our events, not even the State of the Union or our annual Charity Date Auction."
But luck would have it on event day, the skies darkened and AccuWeather called for a nasty downpour.
So at the last minute, the decision was made to move the entertainment and food down to the hotel lobby — a disappointment for many who were hoping for a relaxing summer breeze and views.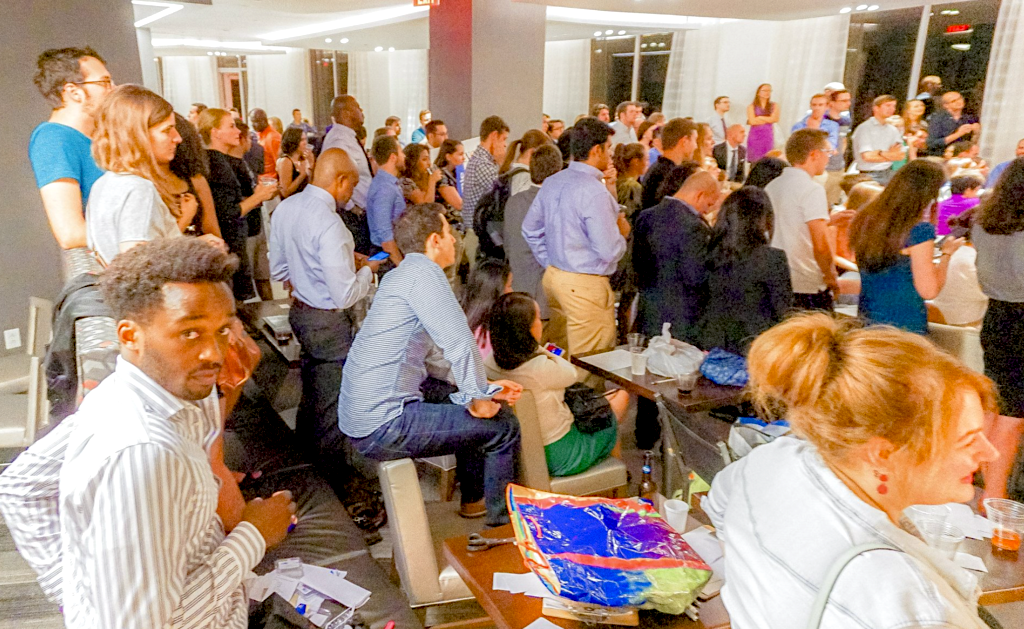 But the inclement weather turned out to be a mixed blessing because, by the end of the evening, over 500 people had congregated at the Cambria some socializing and networking, some fully absorbed in the Debate, many enjoying the jazzy tunes from Flo singing originals such as "Uh Oh!" and "Man of the Year" from her amazing album "No Dustbunnies"
We'll have a big romance, straight off the silver screen
We'll have a picket fence and the lawn of Kelly Green.
And I'll sing my happy tune as I push my vacuum
And I'll dust every room, you won't find no dust bunnies.
When Flo sang, there were shades of Fiona Apple and Regina Spektor, and she created something new that captivated the audience.
Jim clapped exuberantly. "You were superb Flo. You should do more political functions. You've brought excitement to a boring debate."
The turnout was extraordinary. It helped greatly that our event got a lot of play in the Wall Street Journal, D.C.ist, and other local media. For many Millennials, they were still in high school when Obama won the election and their vote would be critical in deciding the dynamics of the election.
"No way, will Donald Trump win the GOP nomination," a house intern blurted.
When it was Trump's turn to talk, he was greeted with a cacophony of boos.
"We kept the roof open for folks to check out the views and come back down for the food, fun, and mingling," said Evan. "We set a record for attendees in our first year in Shaw, and we were thrilled that people from all over the city chose Cambria for such a historical event."
And the winner of the Debates? Our events team, our talent, the hotel (of course), D.C. politicos, everyone but Trump.
The event surpassed all expectations, and Jim and I agreed to host another political event in the near future. The elections were approaching, and many big-name candidates were jockeying for votes. It seemed all but certain that Trump would win the GOP Nomination. How would he do against Clinton, or would Joe Biden jump into the race?