December 2014
With McFadden's closure, I had to scramble to find another venue to celebrate New Year's Eve. I knew just the right place near McPherson Square next to the Veterans Affairs office on I Street. Established in 1979, The Bottom Line has served politicians, lobbyists, authors, and celebrities dirty martinis and gin and tonics over the span of four decades.
It's a renowned watering hole that welcomes Bengals fans on football Sundays. The basement dive bar serves Skyline Chili atop a pile of spaghetti with a generous mound of shredded cheddar cheese.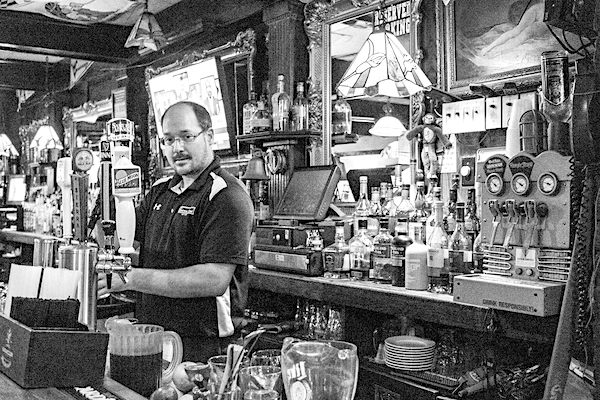 The burgers are also half price on Mondays, and on Fridays, there's the uber-popular "Beat the Clock" happy hour, where cold bottles from their extensive beer list start dirt cheap at 4 and climb a buck to $5 at 5 and until it reaches its peak at 8 pm.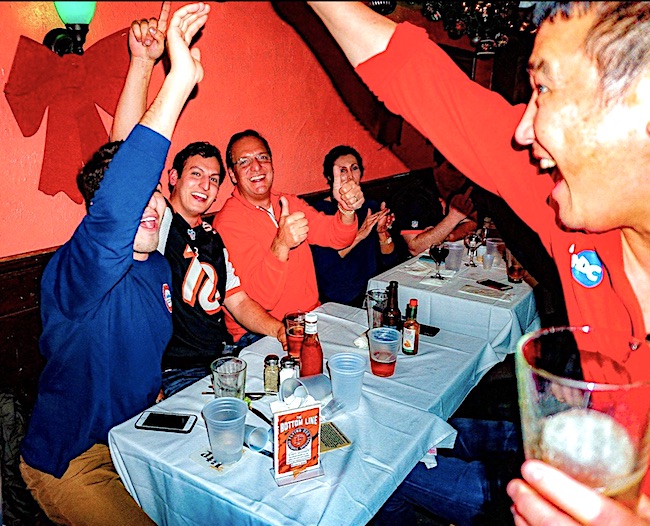 I had visited the institution before on Sept 14, 2014, when the Falcons played the Bengals at Paul Brown Stadium, Cincinnati, and the Bengals whooped the Dirty Bird's ass. The "The Bengals Growl" played loud and proud every time they scored, along with that celebrated/annoying chant.
"Who dey, who dey, who dey think gonna beat dem Bengals?"
"Nobody" is then screamed in unison.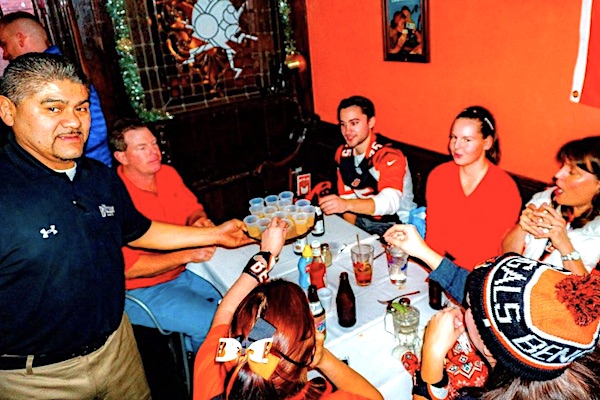 Owner Jr Mosbrucker and Manager, Alcides Garcia were busy keeping the D.C. Jungle happy, serving orange vodka shots to the faithful fans. Behind the bar, Ellen Massey and Ivan Aguilar were performing their magic pouring cheap domestic beer with baskets of crispy golden fries. The crowd was mostly trashed and boisterous, but for food, they were easy to please.
Jr had a knack for making his customers laugh and enjoy themselves. "We've played in two Super Bowls so far. Think we're overdue to return to the big game very soon before we turn 40, I hope1"
New Year's Eve, 2015
The party started with a bang. The revelers greeted the wooden saluting Indian chief and gathered under the multi-colored chandeliers which lit up the funky walls with holiday props. They arrived early to reminisce all the big milestones of the year and recall all the victories and eventual defeat of their beloved football team. For the fourth year in a row, the Bengals were eliminated in the first round of the playoffs, but still, there was a lot to cheer for. Mayor Bowser took the oath of office after a rocky tenure of Mayor Gray, Black Lives Matter made a huge statement, and weed was now legally flowing in the city.
Merrymakers danced with abandon while the D.J. spun a percussive house mix. They sang "Raise Your Glass" by Pink and "Don't Stop Believing" by Journey while Ivan worked behind the bar concocting stylish cocktails and pouring sparkling wine like a magician.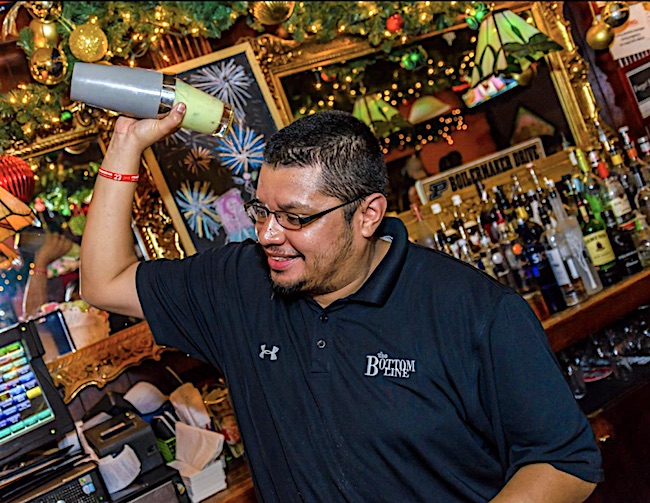 The crowd knew 2015 was going to be an even more amazing year. The presidential campaigns would be heating up, and many expected Hillary to win the Democratic nomination. D.C. restaurant scene would continue to flourish, and independent courier services like Postmates and Uber Eats were starting to gain steam.
So I was thrilled to have found the perfect spot to celebrate New Year's Eve — What doors would open this year, and which ones would close? Hopefully, the one resolution I could stick with this year would be to drink less alcohol.
"Hey, we're looking for a website redesign next year," Jr stated. "Would love for you to join the D.C. Jungle."
"I'm a die-hard Falcons fan, but, I love the energy and would be thrilled to join the team," I replied.
"Great, what are your prices?"
I opened up my webpage on my laptop, which showed a price of $2,500.
"Sounds great. It looks like you're having a blast. So, we'll pick up your tab tonight to make it even more enjoyable."
"Fantastic Jr., I'm sold. Tonight, I'm officially a Bengals fan."
As the evening wore on, I noticed the alcohol kick in. I voraciously consumed anything that was offered to me — Whiskey, tequila, scotch, beer. Then before I noticed that time had slipped by, the ceremonial ball was released, and people were raising glasses of champagne hoping 2015 would bring another stellar year. Glasses clinked, and confetti rained down like snowflakes. Dancing bodies gyrated like an Egyptian belly dancer while party revelers continued to pack the place like this was the place to be. It was getting sultry hot with little breathing room.
I had been out cold for quite a while when Jr found me, my head down listlessly on a table, drool flowing from the corners of my mouth, the front of my shirt stained with Cincinnati chili. Alcides got me a glass of iced water which I readily drank. Then I stepped out to get some fresh air. Merrymakers were raising a ruckus with abandon, and I happily joined them in the cheer. I laughed at a man making a feeble attempt to climb a light pole. I wanted to join a crowd of twenty-somethings dancing in the middle of the street, but something seemed amiss. I rushed inside the pub to see that the crowds had not eased. I walked over to Jr to see if he could jog my memory.
"No more drinks for you," he said. "You've had quite a lot tonight."
Then suddenly, it dawned on me. My backpack with my Macbook Pro, wallet, and keys was missing — it appeared someone had grabbed it when I was lights out. I ran around like a headless chicken asking if anyone had seen it.
Jr scratched his head. "I remember you had your laptop out at the beginning of the night, but I don't remember seeing it after that."
"Well my car keys were also in my bag. How am I supposed to get home now?"
"Here, lemme give you $40 to catch a cab. Sleep it off; hopefully, you'll remember where you left it."
I returned home, banged on the door, and woke up my housemate. Then I crawled into my rack and tried to sleep it off. The next morning, I caught a metro to Farragut West to retrieve my car. I was afraid I had forgotten where I parked it. My eyes didn't deceive me when I saw the distinctive half sedan, half pickup truck of my 2003 Subaru Baja on 18th & I, and when I looked into the back seat, I was beyond delighted to find my elusive backpack. My Macbook Pro and keys were exactly where I left them. How did it get there? Was I hallucinating all along? It was clearly time to change my drinking habits.
1 The Bottom Line opened on October 29, 1980.